10 Best Design Podcasts In 2021
Podcasts have shot to popularity over the past year due to isolation and nationwide lockdowns and restrictions.
As a result, podcasts have become an effective way to stay updated with your industry when things are so fragmented and separated.
Now, when it comes to the design industry, there is so much to know about the business since it takes on many forms:
Graphic design
Advertising
Branding
UX/UI Design
Web Design
Podcasts are a great way to increase your knowledge, ideas, and overall perception of the design industry.
Not to mention, they're a great way to get inspired and help you see the world or a particular industry from new angles.
With this in mind, below are 10 great design podcasts to listen to this year, and why we've chosen to include them.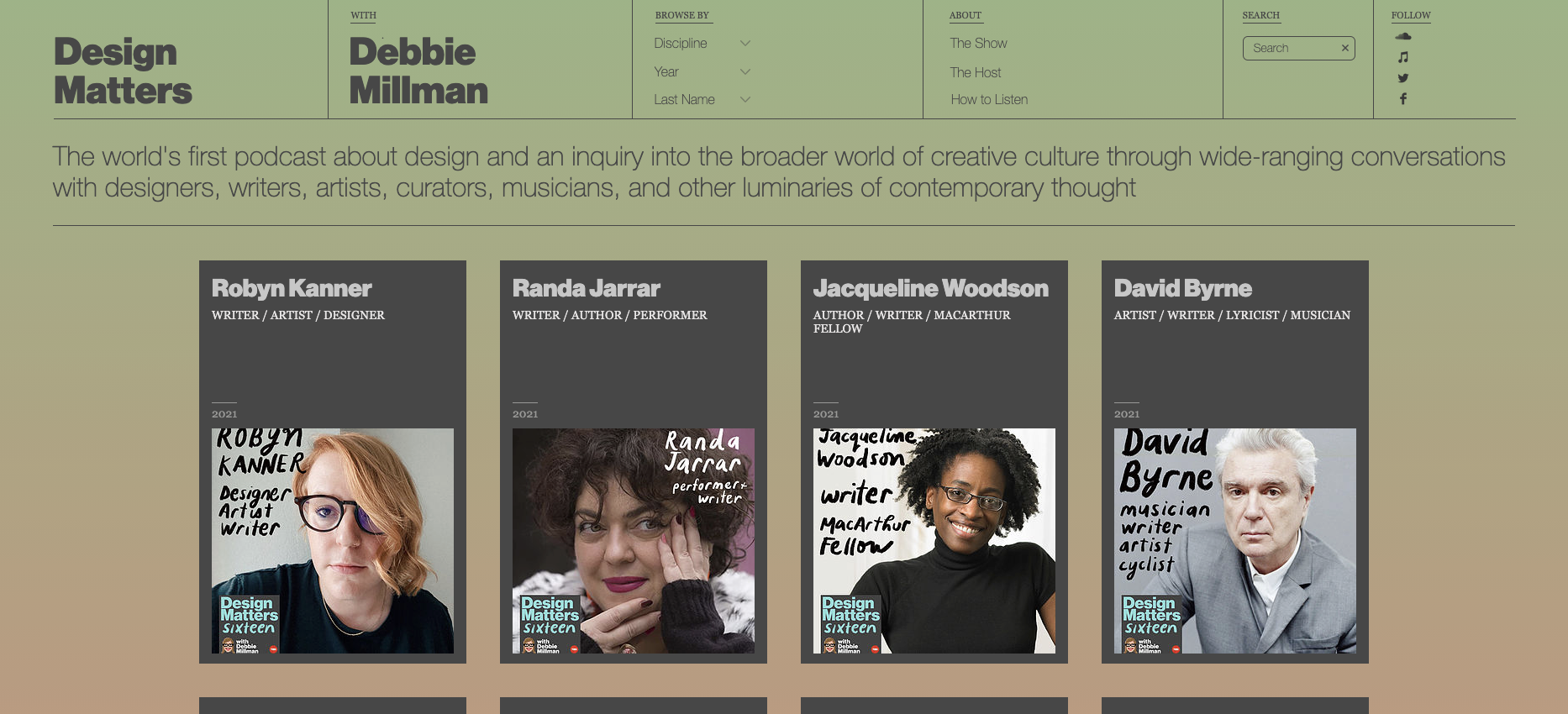 Hosted by Debbie Millman, Design Matters is considered the first podcast to cover design topics in this form of media.
Millman interviews various designers, artists, and other contemporaries about their work, their thought processes, and so much more in her podcast.
Here you'll learn from the pros and the rising stars in the design industry. The podcast has quite a few episodes to listen to, all the way from 2005! So be prepared for A LOT of awesome content.
Design Matters covers a variety of topics and disciplines, from activism to writing while working with lots of diverse people, reflecting the design industry as a whole.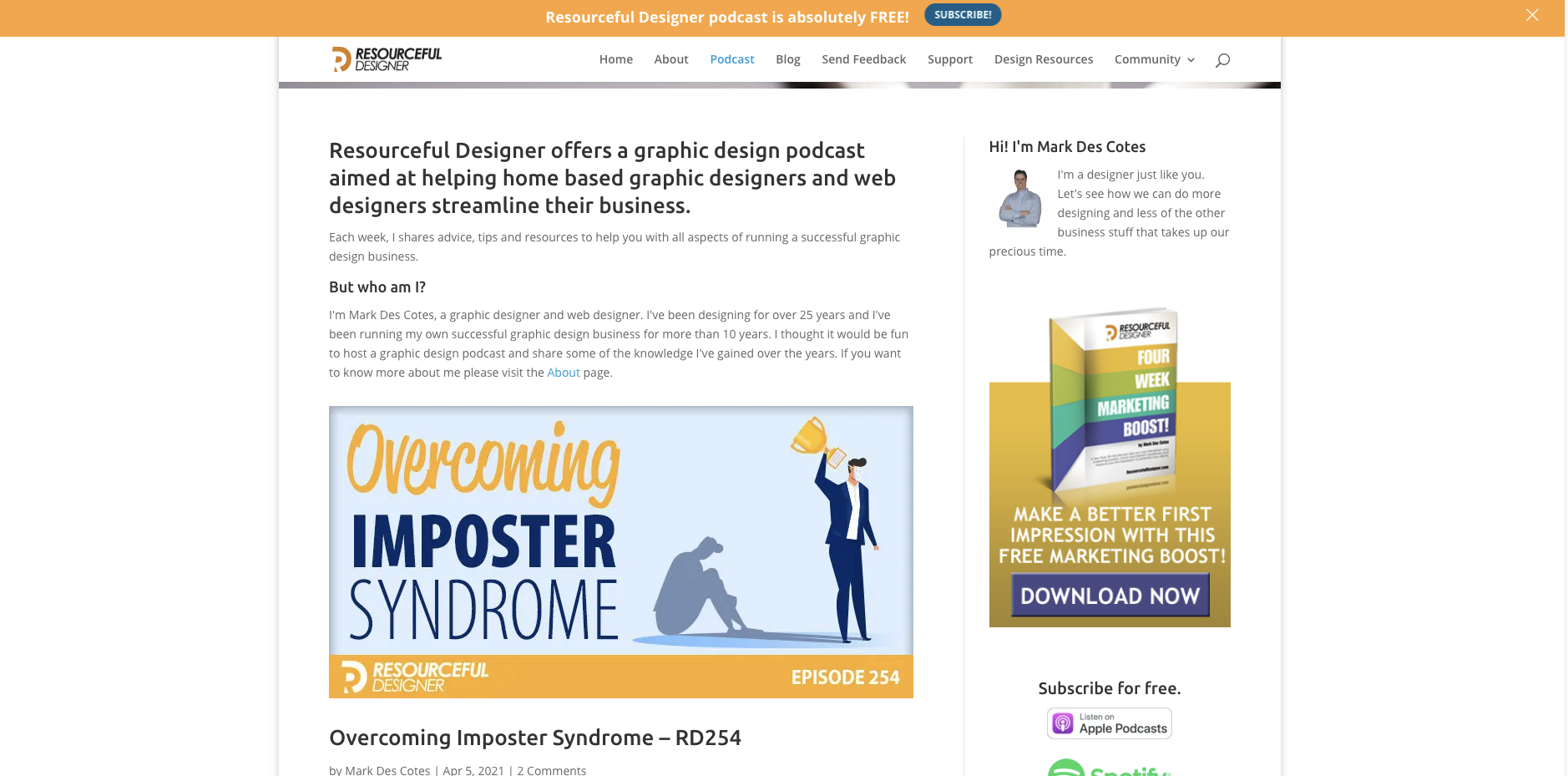 Resourceful Designer is a blog and a graphic design podcast; it ticks two creative industry boxes and is accessible in two ways depending on how you like to consume your content.
Both were designed and are being managed by Mark Des Cotes, resulting in a constant stream of helpful advice for design professionals.
This design podcast is marketed towards passionate designers of both novice and advanced skillset. The podcast shows prospective designers how to grow and make money doing what they love.
Its content mostly revolves around managing your employees, projects, and overall progress. It is a well-developed podcast with hundreds of episodes full of exciting information.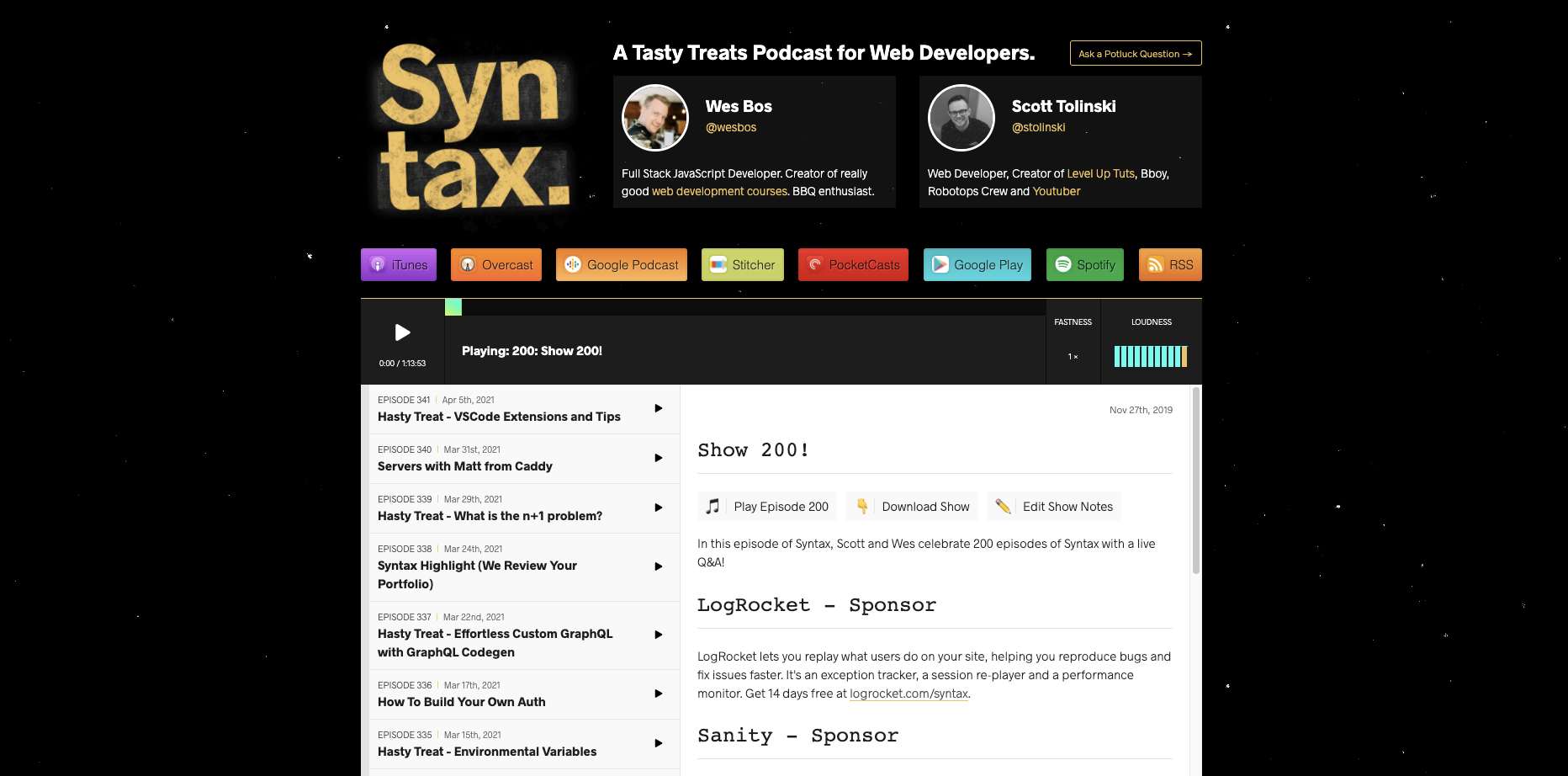 Syntax is more of a niche podcast than those mentioned above and focuses more on specific technologies. It's centered around particular design fields and web development, such as CSS and JavaScript.
Scott Tolinski and Wes Bos host the podcast, guiding both technologically focused designers and the creative types as well.
Jerry Mitre, a web designer a Essayroo, shared this insight, "Though this might not be the right choice if you are just looking for relaxing background noise, it is technologically loaded. This podcast goes beyond the easy 'outside' of design and does a deep dive into the more technical sides of it."
Both hosts have a lot of experience in the industry and are great at breaking down complicated issues and making them easier to understand.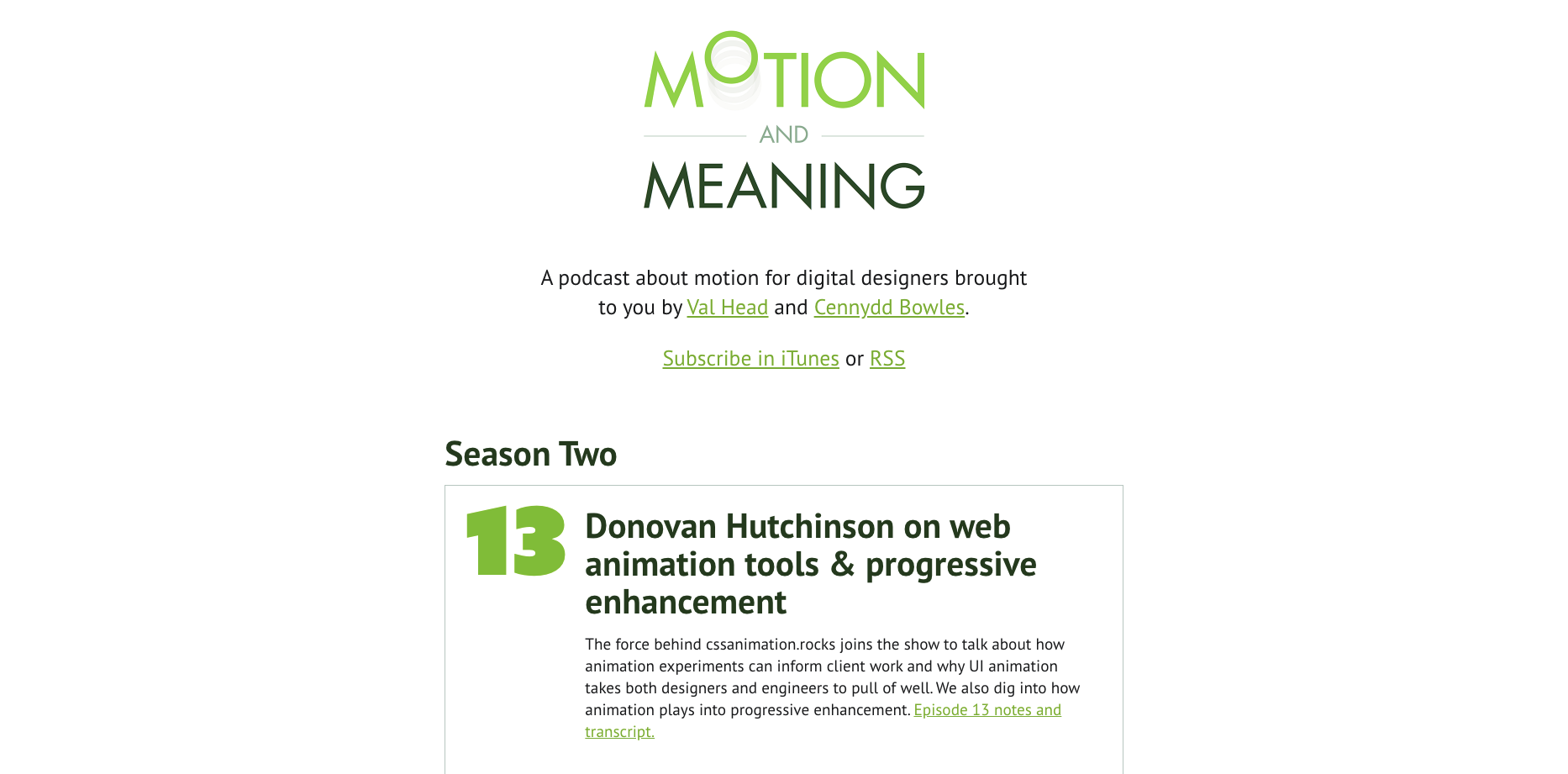 If you're a tech-y type of a designer or want to implement the latest technology into your work, then this is the best podcast to listen to.
Motion and Meaning is a unique podcast that explores the user experience and the importance of dynamic design.
It details the more immersive side of the user experience – more specifically, digital design.
Senior Design Advocate Val Head and futurist designer Cennydd Bowles host the podcast, guiding the listeners through digital design concepts such as progressive enhancement, web animation tools, and UX choreography.
This is the perfect podcast for the budding designer who wants to take their skills to the next level.
As you can tell by this unique concept, the future is now, and so is design!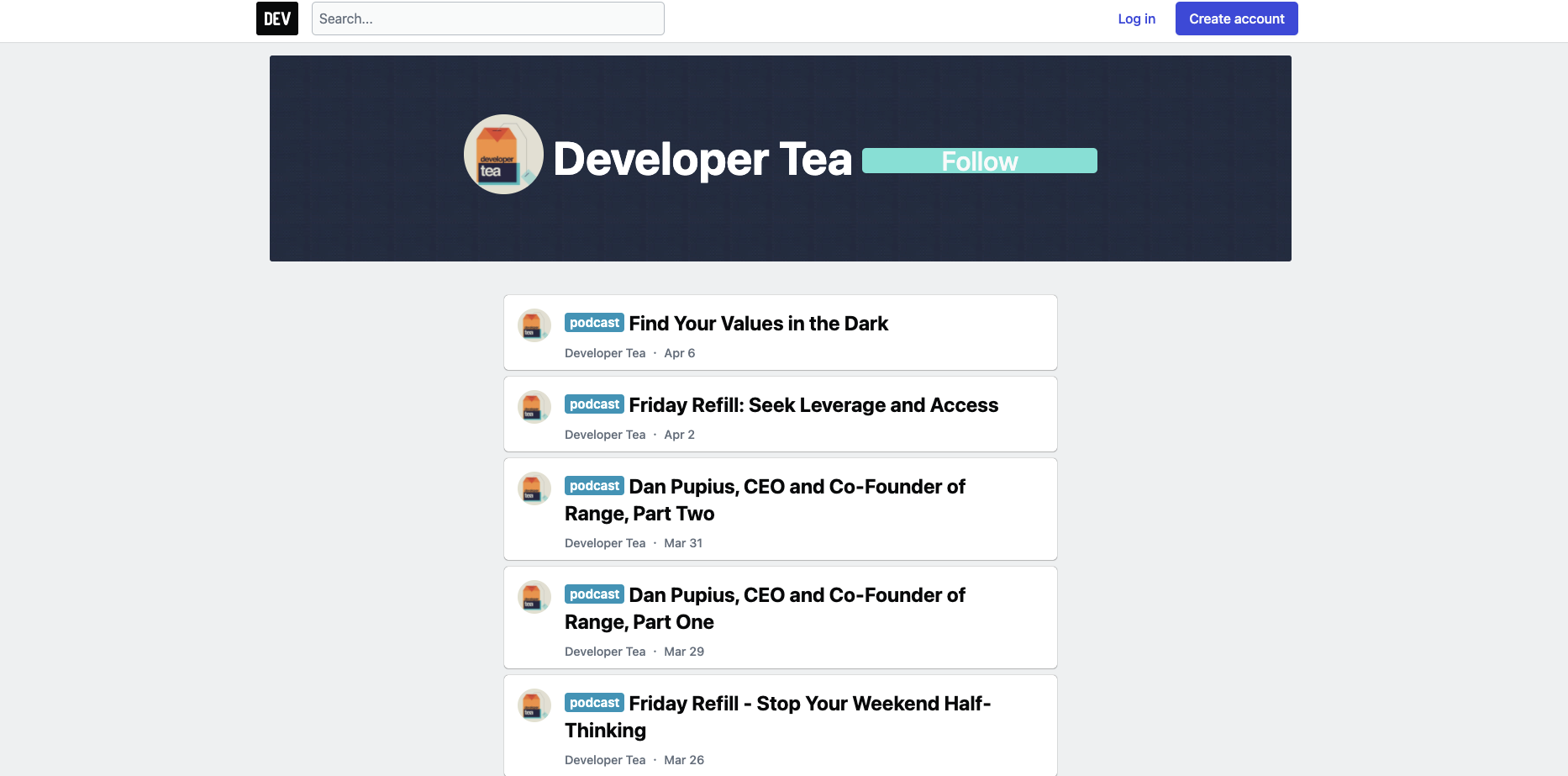 If you ever wanted to listen to a podcast during your tea (or coffee) break, AND learn more about designing, then Developer Tea is the podcast for you!  
As the title suggests, this podcast is for designers and developers who want to increase their industry knowledge without being overloaded with information.
So, whether you're on a morning commute, having lunch during your work day, or simply relaxing at home, you can listen to the podcast at your own pace and not have to feel that you need to cram everything in, as if studying for a test.
This podcast discusses web design, speeding up production, and increasing efficiency. The host Jonathan Cutrell provides a fabulous delivery of thought-provoking ideas, problem-solving, and general industry knowledge.
The habits you'll learn here will bring success into every aspect of your designer's life.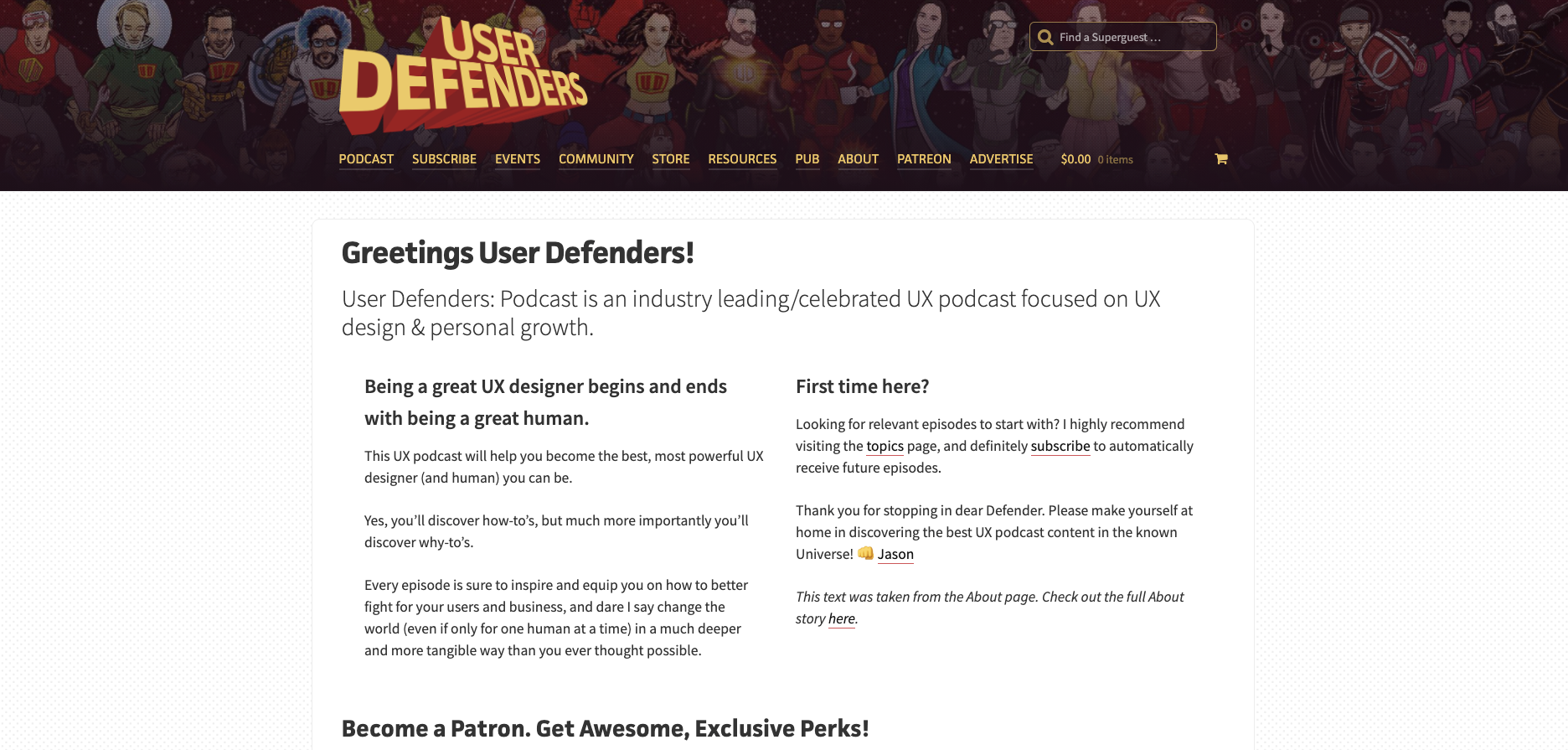 UX and the subsequent user review stand out as the most important considerations for leaders in any industry, especially web design.
One of the most popular subjects for web design podcasts is user experience, and this is primarily the focus of 'User Defenders.'
Jason Ogle hosts conversations with an incredible range of  UX designers worldwide, each offering their specific piece of insight into the world of web design and how the user experience works within it.
This is a great web design podcast for people who want to learn about web development, all while gathering a wide breadth of knowledge from industry-leading professionals.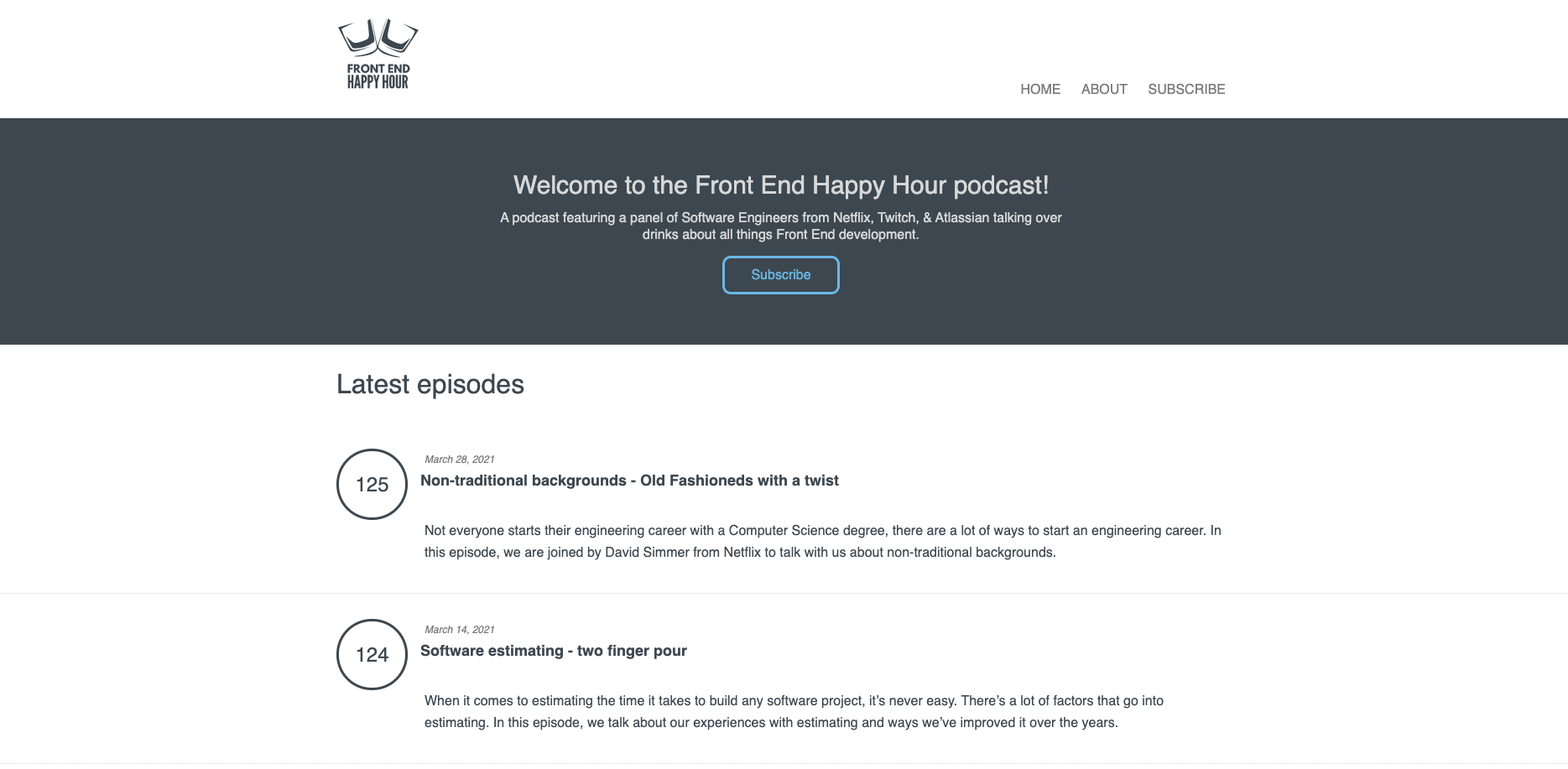 Have you ever wanted to go out for drinks with fellow designers? 🍻
This podcast has the same vibe as having a "happy hour" with fellow designers, except that these designers (the hosts) are Software Engineers from Netflix, Twitch, and Atlassian!
Front End Happy Hour is the perfect, more relaxed, and informal option for the less intense web designers.
This podcast is more about sitting down with a glass of wine at the end of the day and listening to something interesting rather than an intense deep dive into technical issues.
This unique podcast tackles important designer topics and takes knowledge from various organizational leaders of famous companies.
It is a fantastic way to determine how the minds behind some of the world's most prominent organizations work. The podcast breaks down more complicated topics into bite-size easy to process tidbits.
Being a successful designer is often about keeping up with the latest trends, from the color of the year to new UX strategies.
However, when you are staying up to date with the latest trends, it's great to have them from a perspective that you can relate to.
That's where Femke van Schoonhoven and Charli Prangley come in!
Design Life podcast comes from Schoonhoven and Prangley's desire to form a female-run platform for female designers.
Van Schoonhoven is a designer at Uber who's also a YouTuber. She teaches product designing to her viewers and even makes appearances at conferences and events.
Prangley – also a YouTuber – is a designer at ConvertKit, and is also passionate about teaching creatives on improving their craft.
With these two gals, not only will you grasp the basics of designing, but also learn about the intricacies of how technology is evolving design.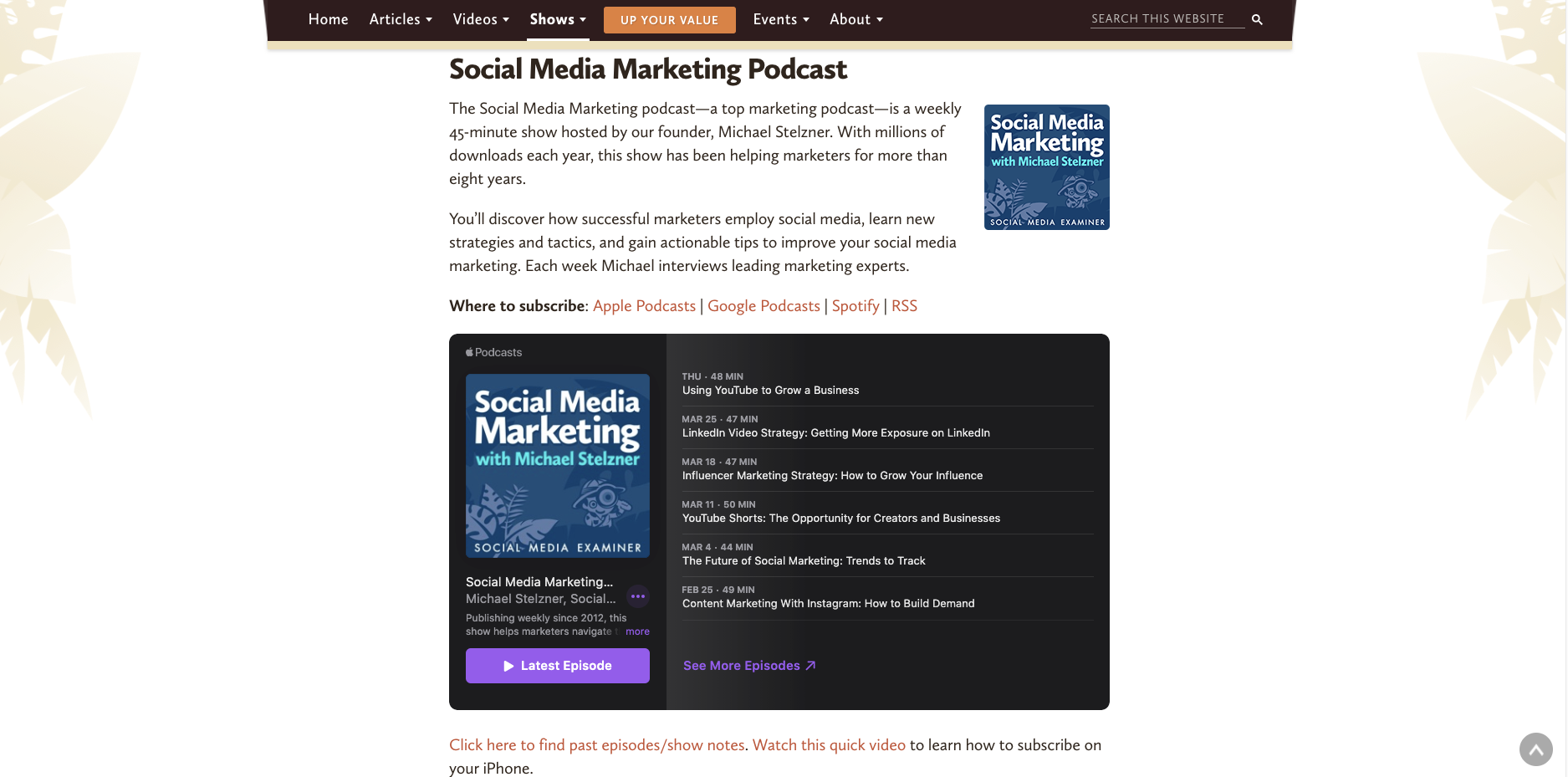 Social Media Examiner is a substantial online resource that provides information on everything you need to know when running a social media profile.
It teaches you everything from how to drive traffic to your page, improve social media engagement, and how to generate awareness of your brand, convert sales, and so on.
This is an exciting take for designers because you get access to the technical side of social media.
This, in turn, can provide great insight into why the design of your social media content matters more than you think. It also touches upon what kind of expectations potential clients, customers, and followers will have from you and your visual content.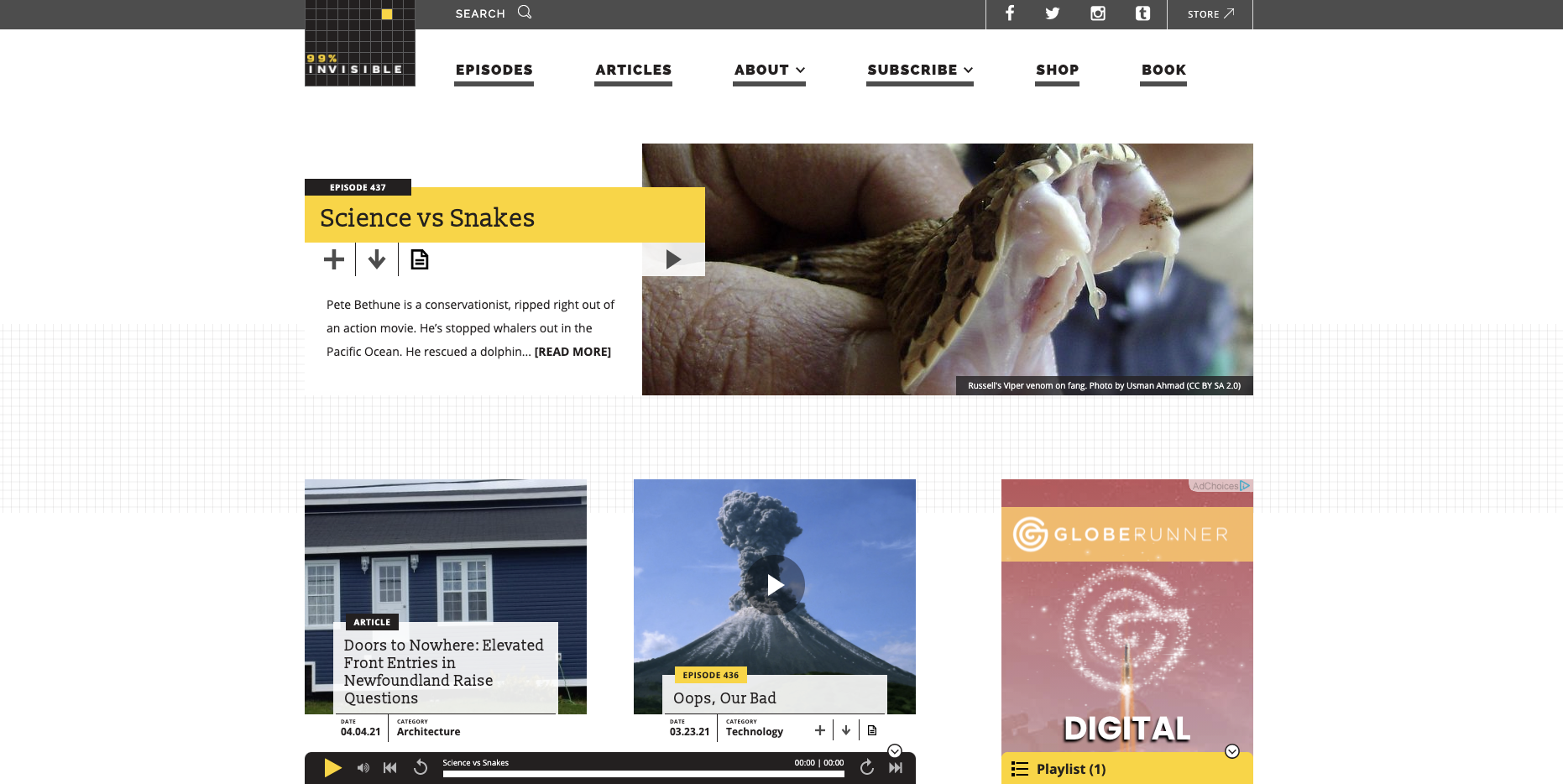 A small, yet highly-rated podcast on the more traditional aspects of the design world, focusing not only on digital content and formatting, but much more.
Even if you operate within the tech sphere, there's still plenty to learn and get inspired from a podcast such as this.
The host, Roman Mars, discusses everything you could imagine, from traditional design and creative concepts to architecture, building design, and even a bit of fashion.
This is a podcast that will take you out of your comfort zone and help you dive into and explore something new.
What's more, it's one of the most listened to podcasts on iTunes, which kind of speaks for itself.
---
If you have any experience in the design industry, you're already aware that learning and growing never ends. The moment you think you know everything, you discover something new or find an avenue that you have not explored yet.
Design is an ever-changing industry, as new styles, trends, technologies, and features evolve and take place in our world.
Podcasts are a great way to invest your spare or commute time into what you care about, all while building your professional knowledge.
Hopefully, this short introduction into what we consider the top 10 design podcasts out there will allow you to continue your deep dive into the design industry and keep your knowledge up to date.
---
This article was written by Lauren Groff. Lauren is an online article writer and proof-reader at Write My Essay Paper. She enjoys writing about outdoor adventure and survival.