5 Digital Marketing Opportunities To Promote A New Product
Promoting a new product and marketing it so that it gets noticed by potential prospects is a tough job to do.
There are already a variety of products and a lot of brands pushing out both old and new. So standing out, making your products visible, and your voice audible is not the easiest job in the world.
It does not matter if your product is the best in the world or if it will solve the world's problems.
If you promote it poorly and people don't get to know of it, you will be losing money instead of making money.
With the number of competitors that you have to deal with, it is not enough that your product is excellent.
I should probably remind you that you could be one of the few that knows about the greatness of this product. For others to find out as well, you have to market the product to them.
So, what do you do? Digital marketing!
Time and again, digital marketing has proven itself as a potent form of marketing. However, there are different forms and platforms that you can use to achieve your marketing goals.
More and more people are online these days.
This means that more people buy and sell over the internet and the amount of people you can market your product to is growing.
Offline marketing is quickly becoming a thing of the past. But to be successful with your digital marketing, you have to choose the right platforms and techniques to promote your business.
It is easy to feel like you have an endless number of digital marketing options to promote your product. And to be fair, there's quite a number of them. You also have to find out which of these is best for you to promote your business.
Here are 5 digital marketing opportunities to promote your new products.
Facebook Ads 📲
Facebook provides you with an opportunity to access a large market with over a billion monthly users; this is the reason what makes Facebook ads a handy digital marketing tool.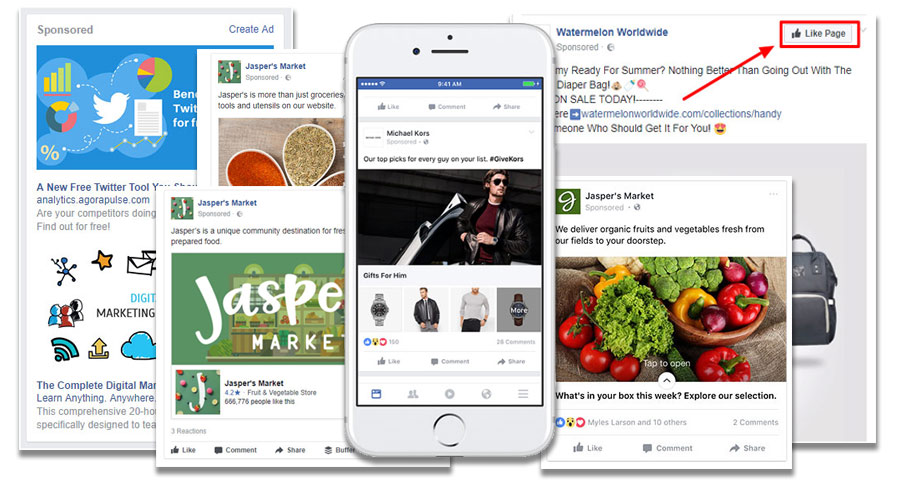 Facebook makes it easy for you to target your audience.
Their impressive collection of data makes it easy for a business to target their audience with specific demographic details such as gender, location, age, interest, job, etc.
It also provides you with a plethora of options to choose from when deciding the type of ads you are going for; this allows you to stick to your budget efficiently by creating a daily or monthly spend cap.
If you are still undecided about your Facebook use, you should see some of the facts and stats about Facebook, or maybe read through a few expert quotes.  
They will convince you. Here are some of the statistics about Facebook that makes it a very compelling prospect.
More than half of the worldwide population of 3 billion people using social media are on Facebook.
The number of daily active users on Facebook is 1.47 billion, and the active monthly users are up to 2.23 billion.
Almost 80% of the people that use the internet also use Facebook.
About 76% of Facebook users are in search of exciting content.
74% percent of Facebook users use it for professional purposes.
All of these figures are staggering and it only shows how large a market Facebook is and the prospect of successfully promoting a new product on Facebook.
It is very likely that in some ways, your target market is using Facebook, so you should get your products before them as soon as possible.
As long as you do not contradict Facebook's advertising policies and the product you are selling is legal, Facebook is a market where almost any product can sell. You should take advantage of this fact.
However, when running a Facebook ad campaign, don't forget to set clear campaign goals and define your objectives.
Google Ads 💻
This is another brilliant digital marketing opportunity for you to promote your new products.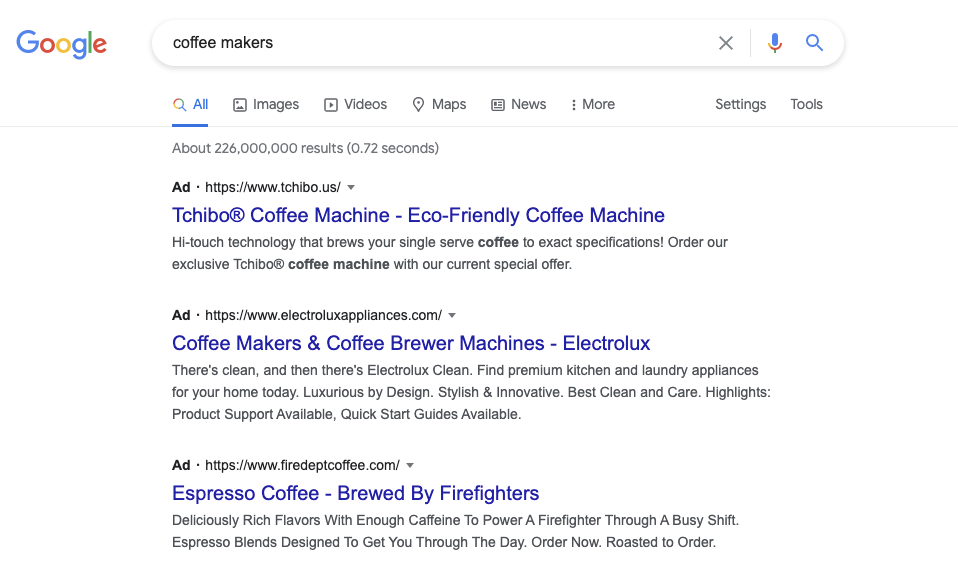 The fact that Google ads are now Google's primary source for generating income says a lot about the effectiveness of this marketing method.
Google ads work similarly to a PPC (pay-per-click) ad where the advertiser pays the ad publisher for each time that a new lead or prospect clicks on the published advertisement.
Just like Facebook ads, there are many facts to support the effectiveness of this digital marketing method. Google ads place your business on the much-coveted first page of Google search results.
Because of Google's popularity, it has four over five companies picking Google ads for their PPC campaigns, and brands that use Google ads for their PPC campaign tend to get a massive boost in their brand awareness.
Businesses that have used Google ads have come out to say they got double their investment after advertising on this platform.
The numerous PPC metrics help you to see how well your campaign is going, making Google ads very measurable. It also helps you get more impressions and clicks faster, more efficiently, and with less effort than SEO.
To top it all, you can use Google ads to complement other marketing efforts and assignment help that you have in place.
With Google ads, you are sure to get traffic on your site, which is essential not only to promote your product but also to drive conversions.
Social Media Posting 🤩
We started this section by discussing Facebook because of its influences on digital marketing compared to other social media platforms.
But there is a lot more to social media than just Facebook.
Facebook only gave us an idea of what it can be like to market on social media, and this is something that you have to leverage on.  
The number of social media users continues to grow by the day, so this offers you an excellent market place to sell your product.
Unsurprisingly, it is not challenging to put your product out on social media. All you need to do is to make a post about your product.
Then explain its features and how beneficial it can be to people's lives. Just do what you can to generate social media excitement around your product.  
Another simple way is to create a hashtag. If you can make the hashtag trend or start a hashtag campaign, your product will be more visible. You can also add giveaways, contests, and polls as part of your interaction and engagement with your customers.
Email Marketing 💌

This is another very simple, effective, and as well the cheapest digital marketing method.
This is one marketing technique to promote your product, and it can effectively turn prospects into customers with ease. Also, it is the best way to keep yourself in the mind of your prospects and customers.
To use this technique more effectively, try out the following tips.
Add the recipient's name to the email, so it is personalized to them.
Include a subject line with more than 70 characters.
Research the best time to send your mails and do so appropriately.
Increase your customer engagement with A/B testing.
Some email marketing topics that might interest you are:
Customer review request.
Company updates and other relevant information
Sending out an email newsletter is an effective way to use this marketing technique to reach out to prospects and existing customers.
Let them get all the information about your product features. You can also create excitement by offering promotional deals, exclusive discounts, offers, etc.
Content Marketing 📝
Content marketing is an important marketing technique that allows you to create different types of content with which you can promote your product.
Content marketing makes other marketing techniques more effective because people will only buy what they understand or know of.
With content marketing, you can use creative content to inform your audience about your new product.
There are many types of material to choose from. Your choice will depend on the kind of website or blog you have and your preference.
Some of these content types include blog posts, videos, infographics, podcasts, testimonials, social media posts, white papers, website pages, etc.
You have many options, but the most successful is video content. The second most successful and most popular is blogposts. To be successful with content production, you have to know who your target audience is and the needs to be met.
In Conclusion 💁🏼
Promoting a new product is difficult, there is no doubt. The competition is stiff, but that does not mean that you do not stand a chance.
There are plenty of options to choose from if you are looking for a digital marketing platform to promote your business. So you definitely stand a chance.
---
This post was written by Alice Jones. Alice is a writer who provides a paper writing service at a write my research paper platform, and a journalist. She is from San Francisco, CA. Alice graduated from the University of San Francisco and got a Master's degree. She concentrates on such topics as business, marketing, and freelance.