Top 10 eCommerce Tools To Check Out In 2021
Are you an entrepreneur who's on the verge of starting an eCommerce business? Or have you already launched an online store and are looking for ways to attract new customers?
Or are you struggling to retain your existing customers and earn their loyalty?
Is your answer to any of the above questions a resounding "yes"? Then it's high time you find the right tools to launch and promote your business.
To say that the eCommerce market has been booming in recent years would be an understatement.
Worldwide retail eCommerce sales are projected to skyrocket to $6.54 billion by 2022. Also, eCommerce sales will account for nearly 22% of total retail sales worldwide by 2023.
If you've been contemplating launching your online store, it's the right time to take action. However, this has also resulted in cut-throat competition in the eCommerce industry.
Whether you're launching an apparel brand or a beauty and makeup store, there likely exist plenty of online stores in every niche.
This means you must build an excellent eCommerce site and implement an omnichannel marketing strategy to promote your business.
Also, it's essential to provide your customers with prompt and effective customer support and delight them with personalized marketing campaigns.
The goods news is that you now have access to many software applications and tools to grow your business.
From intuitive website builder and plugins to all-in-one eCommerce platforms - you can use a treasure trove of powerful tools.
However, the diverse array of eCommerce tools available on the internet can be overwhelming, even for seasoned entrepreneurs.
In this blog, we'll handpick some of the most useful applications and tools for eCommerce businesses. Let's get started.
Best Website Builders 👨🏼‍💻
First, you need a fast, secure, and awesome-looking website to kickstart your eCommerce business.
While building a website from scratch is always an option, you'll need to hire a skilled developer for this. Or you can eliminate the hassle by using one of the robust website builder tools available online.
Here are our top picks:
WordPress is likely the first name that'll come to your mind when you think about user-friendly website builders.
It's only natural considering that WordPress powers more than 39% of all websites on the internet. Also, building a stunning eCommerce website using WordPress is a cakewalk. You don't even need to be well-versed with the nitty-gritty of coding.
All you have to do is register the domain name, find a secure and reliable web hosting provider, and install WordPress.
After that, you can build your website using a plethora of responsive and eye-catching WordPress themes that have been specially designed for online stores.

Additionally, you get access to a plethora of useful plugins to boost your website's performance and make it SEO-friendly.
You can even customize the theme's appearance and other elements to match your branding. You will, of course, have to use a plugin, such as WooCommerce, to add eCommerce functionalities to your website.
Pros:
Easy to use
Ecommerce-friendly themes
Affordable for beginners
Variety of plugins to improve website features
Cons:
A limited scope of customization (for developer)
Requires constant monitoring for updates
Prone to vulnerabilities associated with open-source software
Pricing: You can download and install WordPress for free. You will, however, be charged for premium plugins and themes. Also, you'll need to pay for the domain and web hosting.
Featuring an easy-to-use drag-and-drop website builder, Wix eCommerce is just what you need to kickstart your online store in a few simple clicks.
You can choose from more than 500 responsive and professionally designed templates. Moreover, you can use various plugins and apps to improve your website.
What sets Wix apart is that it also offers many other tools to build and manage your business.
Whether you want to design a logo or register your domain name, you can do it all from your Wix dashboard. The in-built payment solution also supports industry-leading payment providers, such as PayPal and Stripe.
Pros:
500+ customizable website templates
Drag-and-drop website builder
Affordable all-in-one solution for creating an online store
Suitable for digital products as well
Supports a wide array of payment providers and methods
Supports multi-channel selling (on Facebook, Amazon, eBay, Instagram, etc.)
Cons:
The free plan doesn't let you sell products
Site speed is often slow
Lack of advanced customization
Pricing: Free plan doesn't allow selling; paid plans start at $23 per month.
Best Ecommerce Platforms 🛒
An eCommerce platform is more than just a tool to build your website.
Most new-age eCommerce platforms offer a wide range of sophisticated features to help you manage inventory, shipping, payments, and other business operations. Some platforms even let you track conversion rates and sales.
Here are the most powerful eCommerce platforms:
Shopify has become synonymous with the term "eCommerce platform." It's a robust and feature-rich platform that powers more than 1 million businesses across 175 countries.
The best part is that it's suitable for all types of eCommerce businesses, ranging from bootstrapped startups to large-scale enterprises.
Apart from eye-catching templates, you get to choose from more than 4,100 third-party apps to enhance your website. Moreover, Shopify supports multiple-channel selling, including third-party marketplaces and in-person sales.
If you don't have the time or skill to create an online store, you can even recruit an expert from the Shopify Experts Marketplace.

You get various tools that let you monitor your marketing campaigns' performance and manage orders and shipping. Additionally, Shopify is known for its outstanding customer support.
It provides numerous resources to handhold you through the platform, from community forums and video tutorials to webinars and courses.
Pros:
One-stop solution for launching and managing an online store
Multi-channel 24x7 customer support
Excellent third-party integrations, including CRM integration
Suitable for businesses of all sizes and industries
Fully-hosted and secure
Hassle-free migration
14-day free trial
Cons:
The abundance of features can be overwhelming for beginners
Plugins can be expensive
It doesn't offer extensive creative control (can be an issue for developers)
Pricing: 14-day free trial; paid plans start at $29 per month.
BigCommerce is a reliable fully-hosted eCommerce platform that's used by various businesses across more than 120 countries.
It offers a user-friendly interface along with numerous tools to grow and promote your website. From inventory management to SEO - you can accomplish just about anything with BigCommerce.
You even get access to powerful analytics tools that let you monitor website traffic and conversions.
Additionally, it integrates with other eCommerce marketplaces, including Amazon and eBay, and even supports selling on social media platforms. You can use BigCommerce to build a wholesale eCommerce site targeting B2B buyers as well.
Pros:
Drag-and-drop website builder
Responsive and eye-catching templates
Supports leading payment gateways and options
Suitable for B2B enterprises as well
Robust SEO and analytics tools
Outstanding 24x7 customer support
Cons:
Minimal variety in free templates
Annual sales threshold
Abandoned cart feature is expensive
Pricing: 15-day free trial; paid plans start at $29.95 per month
If you're looking for a beginner-friendly eCommerce platform that offers the best bang for the buck, Weebly is the right choice.
While it's mostly known for its intuitive drag-and-drop website builder, Weebly also offers a wide array of eCommerce-friendly tools.

Whether you want to track orders and payments or coordinate shipping and delivery, Weebly has the right solution for you.
You can even launch your blog in a few simple steps, which makes Weebly suitable for implementing a content marketing campaign as well. It's also one of the most affordable eCommerce platforms you'll find on the internet.
Pros:
Excellent website builder
Affordable pricing plans
Integrates with commonly used payment solutions
Advanced SEO and lead generation tools
Responsive live chat and phone support
Cons:
Limited customization
Limited support for multi-channel selling
No free plan/trial for online stores
Pricing: Starts from $12 per month
Best Email Marketing Software 📧
You can't successfully grow an eCommerce business without leveraging email marketing. It's a great way to communicate with potential and existing customers directly.
You can even send personalized offers and product recommendations to boost conversions and loyalty.
Let's take a look at the best email marketing software for eCommerce businesses:
Pre-built automation workflows, list segmentation, transactional emails - you name it. Omnisend offers all the features and tools you need to implement a high-performing eCommerce email marketing strategy.
You can segment your customer based on their purchase history and other parameters and send hyper-personalized emails.
The best part is that you can use Omnisend to implement a multi-channel marketing strategy, including SMS and push notifications.
You can even run retargeting campaigns on Facebook and Google to skyrocket sales and revenue. Also, you get access to useful tools to create sign-up forms, pop-up boxes, and landing pages.
Pros:
Supports multi-channel marketing
Integrates with leading eCommerce platforms (including Shopify and BigCommerce)
Smart and pre-built automation workflows
Responsive and customizable email templates
Easy and quick migration
Detailed and insightful analytics
Cons:
Lack of transparency about software updates
Higher price point compared to other platforms

Pricing: Free plan only supports email marketing; paid plans start at $16 per month; all paid plans come with a 15-day free trial.
It won't be fair to discuss email marketing platforms without mentioning Mailchimp.
It's a beginner-friendly tool that offers a user-friendly drag-and-drop email builder and a plethora of customizable templates.
You can even use Mailchimp to create high-converting landing pages and online surveys. Also, it integrates with widely used eCommerce platforms and plugins and lets you run Facebook ads.
Pros:
Versatile and scalable
Hassle-free segmentation
Insightful reporting
Extensive knowledge base
Supports social media and eCommerce integration
Provides a pay-as-you-go plan for low-volume clients
Cons:
Limited scope of personalization and automation
Costs can quickly add up as your mailing list grows
Lack of multi-channel customer support
Pricing: Free for the first 2,000 subscribers; paid plans start at $10.47 per month; pricing varies based on the number of subscribers.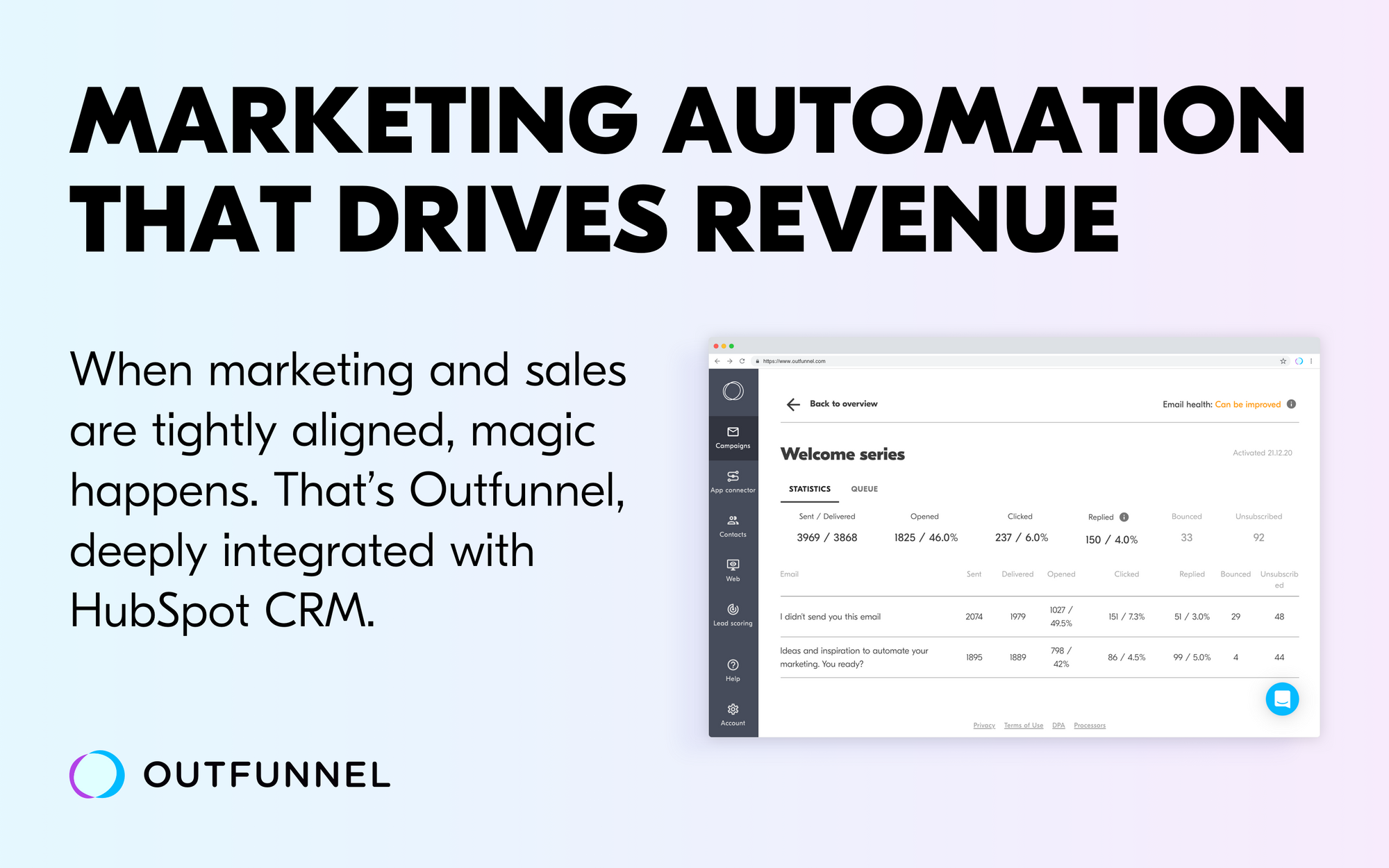 Voted as the #1 App on the Pipedrive Marketplace and holding a strong 4.8/5 stars on GetApp, Outfunnel is a great marketing tool to help you automate marketing, drive revenue, and powerful integrations with other email marketing apps such as Mailchimp.
Pros:
Seamless 2-way CRM and Mailchimp integration
Great support
Ease of use
Dynamic sender details for outgoing emails
Cons:
Not available on Mac or iOS platforms yet
Not as feature-packed compared to other products.
Pricing: Starts at $19 for small business with up to 1000 emails a month and scales up to $125 a month.
Miscellaneous Tools 🧰
In this section, we'll discuss a few other eCommerce tools that are a must for every eCommerce business:
If you've ever tried creating an online store, chances are you've already come across WooCommerce. It's a nifty plugin that lets you add eCommerce functionality to any WordPress website.
From physical goods and merchandise to subscriptions and membership plans - you can monetize your website in various ways using WooCommerce.
You just have to install the plugin and configure it by adding payment and shipping details.
Pros:
Easy to use plugin
It offers a wide array of extensions to improve its functionality
Feature-rich free plugin
Supports major payment solutions, including PayPal, Stripe, Square, etc.
Cons:
Works on WordPress websites only
The cost of extensions can quickly add up
Configuring the plugin can be difficult for beginners

Pricing: The core plugin is free. However, you might need to purchase various extensions to implement advanced features.
The success of your eCommerce marketing campaigns depends on the design and layout of your landing pages.
While you can always direct target consumers to your website, sending them to a conversion-focused landing page is often more effective.
This is precisely what Leadpages lets you accomplish.
Pros:
Integrates with Mailchimp and Facebook ads
Beginner-friendly drag-and-drop builder
200+ pre-designed landing page templates
All pricing plans include unlimited lead collection
Real-time design tips
Cons:
Limited scope of automation
No free plan/trial
It can be expensive for beginners
Pricing: Start at $27 per month
Conclusion
Launching an eCommerce business is a great way to build your brand and skyrocket sales. It's also an excellent source of passive income. However, your eCommerce business is only as good as the tools you use to build and promote it.
From email automation platforms to website builders - you can use a wide array of software to kickstart an online store.
You can even consider using an all-in-one eCommerce platform to build your store, manage inventory, and monitor sales.
What tools and apps are you using for your eCommerce business? Share your recommendations in the comments section below.
---
This article was written by Jeremy Ong. Jeremy has been running several online businesses behind his laptop for the past 5 years and he has worked as a freelance web developer previously. A trained marketer by profession, he also has Ruby on Rails and web development knowledge. His forte lies in eCommerce, SEO and content marketing. He's been featured on Vice, Thrive Global, YFS Magazine, Forbes and several other publications.