SEO VS. PPC - Which One Should You Use?
If your small business is trying to decide whether to invest in SEO and PPC services, here's a useful guide to help you decide.
Small business owners can greatly benefit from Search Engine Optimization and Pay-Per-Click (PPC) advertising.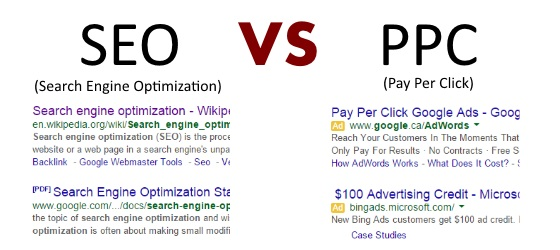 Whether used simultaneously or separately, both SEO and PPC are extremely useful in helping brands reach their target audiences and expertly market to them by implementing these tactics.
If you are deciding between purchasing SEO and PPC services, you are probably wondering what makes the most sense for your business in its current state.
The answer is that it really all depends, and is often situational.
SEO and PPC drive different types of traffic to your website or blog and are generally achieved over different time frames.
While both are useful when it comes to brand marketing, there are some circumstances where your company may profit more from one form of traffic than another.
Therefore, it's important to understand the difference between PPC and SEO in order to know which you would benefit from the most.
The Main Difference Between SEO and PPC
SEO and PPC are both considered Search Engine Marketing (SEM) tools, however, the primary difference between the two is the type of traffic they draw to your website.
SEO generates organic (free) traffic from the keywords you use in your content, such as blog posts, page titles, and homepage copy.  
However, with PPC, the traffic generated is not free, as the name suggests. In this case, your company pays a set cost each time a visitor is brought to your website by clicking a link.
SEO Vs. PPC Advertising 💁🏻‍♀️
There are four main factors to look at when deciding between SEO and PPC: the difficulty of search result terms you want to rank for, timeframe, cost, and the potential for an increase in traffic.
Now, let's break this all down.
1.The Competitiveness of Search Results Ranking 👀
No matter the size of your business, the position that you are placed on the search engine results page is very important. No-one wants to be on Google's page 20!
First, consider how you use search engines for your own personal use. Which link do you click on when you are searching for a product or service?
Usually, it's the very first link at the top of the page, right? That is where you want your website to show up to ensure the optimum amount of traffic.
Pay-Per-Click links will always show up at the very top of the page. That's because you are paying for the link to be there.
They will always appear above organic results, which is one reason why PPC services are so tempting.
However, many savvy consumers are becoming more and more aware that top links that show up on their search engine results page are ads and they will often avoid these in order to not end up on the wrong website.
SEO will appear underneath paid ads. How well-optimized your website's content is will help to determine exactly where your listing will show up; whether it will be high on the page or not.
This relates to both on-site and off-site SEO. For that reason, it's important to do your research and ensure that you are including SEO in your marketing strategy as soon as possible.
With all of this in mind, how do you decide between these paid listings or organic results?
It's generally recommended to undertake some basic keyword research to understand how competitive the search terms that you're targeting are.
Tools like Moz Keyword Explorer let you type in a keyword as broad as 'shoe shop' and be given other related and narrower search terms to work with.
Narrow down these search terms, until you find terms that you believe people are searching for and relate well to your business.
From there, Moz Keyword Explorer will provide a keyword difficulty score which is hugely valuable.
The more difficult the keyword score, say 'coffee shops in Seattle', the longer it'll take to reach the top pages of Google.
In these instances, using PPC advertising will provide more instantaneous results and bridge the gap between the traffic of tomorrow and today.  
2.The Cost 💰
Perhaps the clearest difference between SEO and PPC traffic is the cost. SEO traffic is 'free', while PPC is paid.
If you choose to hire a company to optimize your content and make your site SEO-friendly, you will have to pay for that service, but there will be no further cost when a potential customer clicks on your link to access your website.
With PPC, you must pay for each click, yet you are guaranteed positive results much faster.
While SEO traffic may be considered free, it's important to note that there is a lot of hard work and research that goes hand-in-hand with it.
You will need to have high-quality content on your website and there are no shortcuts when it comes to working your way up the search rankings.
The amount that you pay for PPC service will depend on the popularity of the keywords you want to use, as well as the number of websites that have ad positions for each keyword.
With pay-per-click, you only pay for the clicks that your ad receives, not for the views.
You can also determine your daily budget so that you know exactly how much your company is paying out each day.
If you want to get a jump start on gaining more traffic to your company's website, PPC advertising is a great, quick solution.
However, if you have a smaller budget, and if you're willing to roll up your sleeves while wanting lasting results that will draw more valuable clicks form your target audience over time, SEO is something you should definitely consider.
3.Increase in Traffic 🚕 🚗
With SEO, you'll earn more genuine traffic to your website over time than you would by simply paying for the top keywords with PPC.
That's because when your website is in one of the top 5 positions, you can expect to receive more continuous traffic to your website or blog without having to pay out extra.
Ultimately, people trust top searches.
On the other hand, PPC ads can drive a great amount of traffic in a shorter amount of time when compared to SEO, but that would also mean that a higher cost is a factor.  
4.Timeframe 📆
We've touched upon this point above, but one of the most important elements here is your timeframe for seeing results, which usually means new business.
If you're launching a new product and need to drive sales and traffic, you are better off driving this through PPC advertising.
SEO is a long-term play that requires patience and the willingness to make incremental improvements, which will pay dividends over time.
So, Which Is Worth It? 💁🏻‍♀️
Choosing between PPC or SEO (or both) all depends on your business goals and how quickly you want to see results.
For small businesses that need to increase brand awareness but are on a tight budget, we would recommend for you to start with a small social media advertising budget, SEO, and go from there.