13 Ways To Increase Your TikTok Followers In 2021
TikTok is relatively a new player in the social media world, but it comes with fantastic growth if you harness its power correctly.
TikTok is a social media platforms filled with viral videos, brands promoting their products and various celebrities. TikTok now has over 800 million active users and 1.5 billion downloads from all over the world.  
A lot of teenagers, Gen Z's and kids spend their time on this platform, and quite a few adults as well.
TikTok allows its users to create short videos, add funny music and filters and post unique content online.
If you're a marketer looking to promote your products and services, you can use this platform and boost your following.
The more TikTok followers, the more opportunities you'll get to increase brand awareness and drive traffic to your website.
In this blog post, we'll talk about the 13 best ways to help you to gain real and organic followers to your TikTok profile.
1. Identify Your Target Customers 👩🏻‍🦰👱🏾‍♂️
If you want to increase the number of followers on the TikTok platform, you need to know your target customers and their needs and interests.
However, you cannot satisfy everyone, so it is essential to figure out your target audience and create videos based on their unique needs.
You can also track your competitors to get an idea of what type of content is popular on the platform and what type of content people like to watch.
For example, if your target audience is 13 to 25 years of age, you can make more funny and engaging videos. Focus on creating innovative content if your target audiences are over 35 years of age.
2. Create Trendy Content 👏🏼
TikTok is all about trendy and engaging content to build your followers. From dance videos to hashtag challenges, there is always something new trending on TikTok.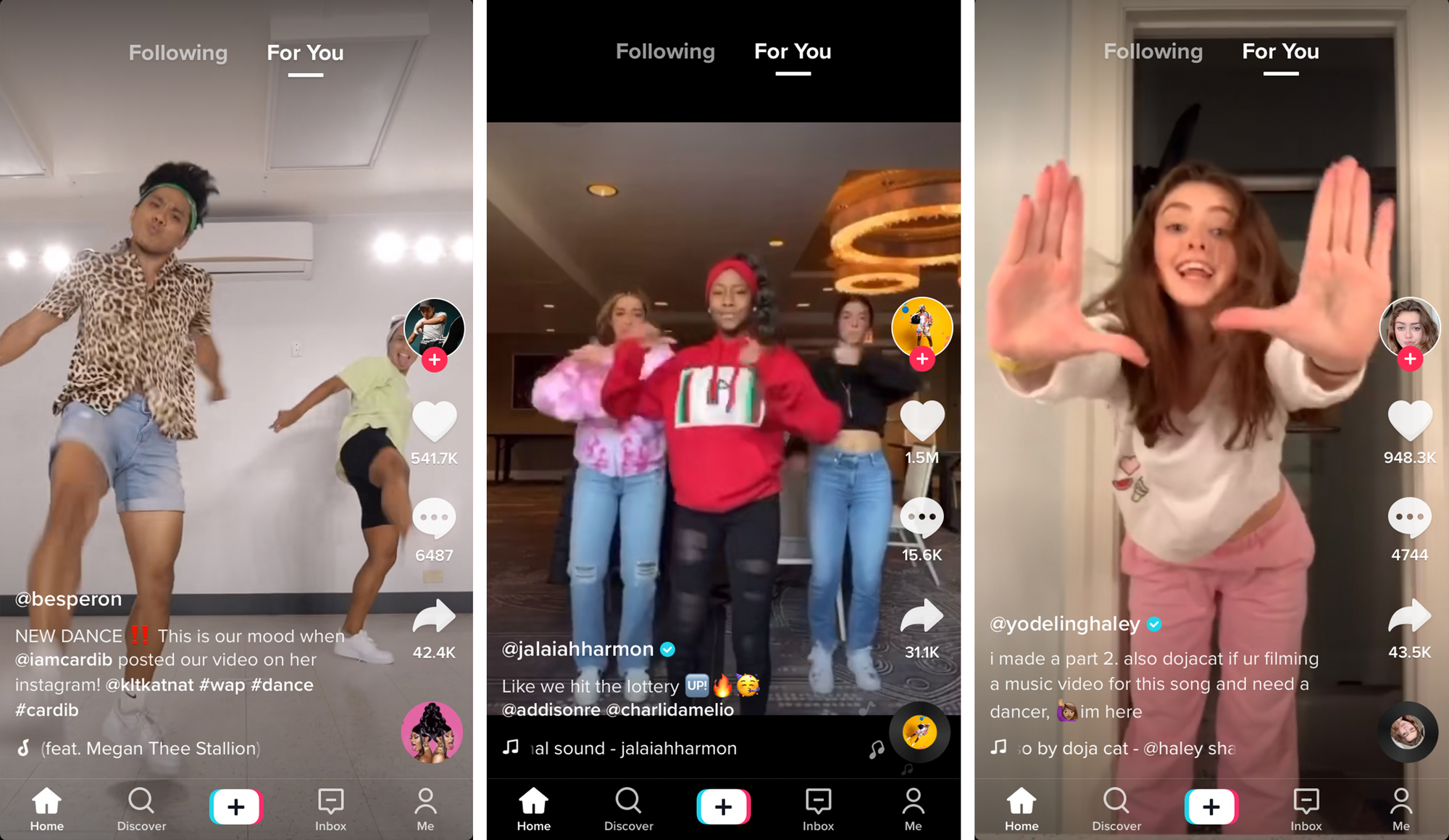 When you're trying to grow your followers on TikTok, creating videos relevant to trending content is the best strategy to get more followers.
Here are few ways to find TikTok trends:
Pro Tip 👇🏽
When you decide to move on to TikTok trends, ensure that your content stands out. Upload videos that will attract your target customers so you can easily invite more followers to your TikTok account.
3. Use The Right Hashtags #️⃣
Hashtags give you the the ability to show your content to a huge audience. If you add perfect hashtags in your post captions, there's a chance to increase your video discoverability.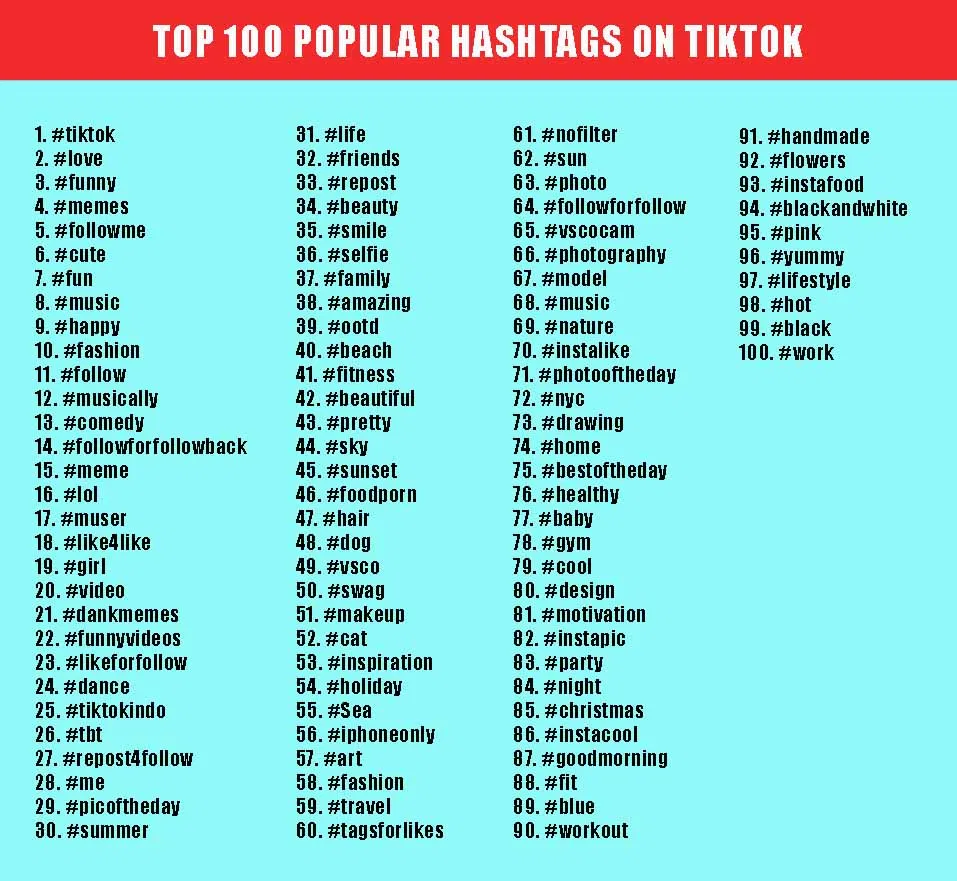 When users search for your hashtags, they can easily find your video. You can use any type of hashtags such as branded keywords, generic keywords and so on.
The best practice is to add hashtags is those specific to your content. General hashtags are great, but it might be harder for your content to secure its place on the relevant page.
Therefore, branded keywords relevant to your content will make it easier for your audience to find your videos.
For example, when you upload videos related to beauty, you can add specific hashtags such as:
#makeup
#beauty
#makeuptutorial
#beautyhacks and much more.
4. Upload UGC Videos To Boost Engagement 💁🏻‍♂️
Are you wondering how to get more followers and engagement on TikTok?
You can achieve your goals with user-generated content on TikTok. UGC is basically when brands invite their customers to create content for them and feature it on their social media later on.  
On TikTok, user-generated content builds customer loyalty, increases the number of engagements and brings more followers to your TikTok account.  
An example of TikTok UGC is selling makeup products and asking users to create makeup tutorials by using your products.
You can repost their content on your account with relevant hashtags.
Even if you have a lot of followers, encourage them to share your content with their friends and followers to get higher engagement.
5. Perform Duet With Others 👯‍♀️
Collaborating with other TikTok users is a great way to expand your fan base and share your content with potential followers.
TikTok provides something called duet functionality, allowing you to perform with other TikTok users.
If you want to gain TikTok followers for effective engagement, you can start performing duets with the most popular users.
TikTok duets allow users to effectively replay someone else's video content by making their own video.
Both of these videos appear side by side on the TikTok screen in a square format.
TikTok duet is a great way to increase your engagement rate.
6. Upload Your Videos At The Perfect Time ⏰
If you find the perfect time to publish your videos on TikTok, there will be more chances to increase the number of interactions and the number of followers.
You should receive more likes, comments, and shares when you upload content during peak time.
You can track which posts gained the highest engagement and when your audience was active online.
If you use a TikTok pro account, you also have access to detailed analytics. With the TikTok analytics dashboard, you can easily track the breakdown of your follower's activity.
Here are some best times to post content on TikTok and get a higher level of engagement:
Monday : 6 to 10 AM, 10 PM
Tuesday: 2 to 4 AM, 9 AM
Wednesday: 7 to 8 AM, 11 PM
Thursday: 9 AM, 12 to 7 PM
Friday: 11 AM, 7 to 8 PM
Saturday: 7 to 8 AM, 4 PM
7. Work On Your Profile And Bio 📝
Your profile is how your brand introduces itself to the entire world.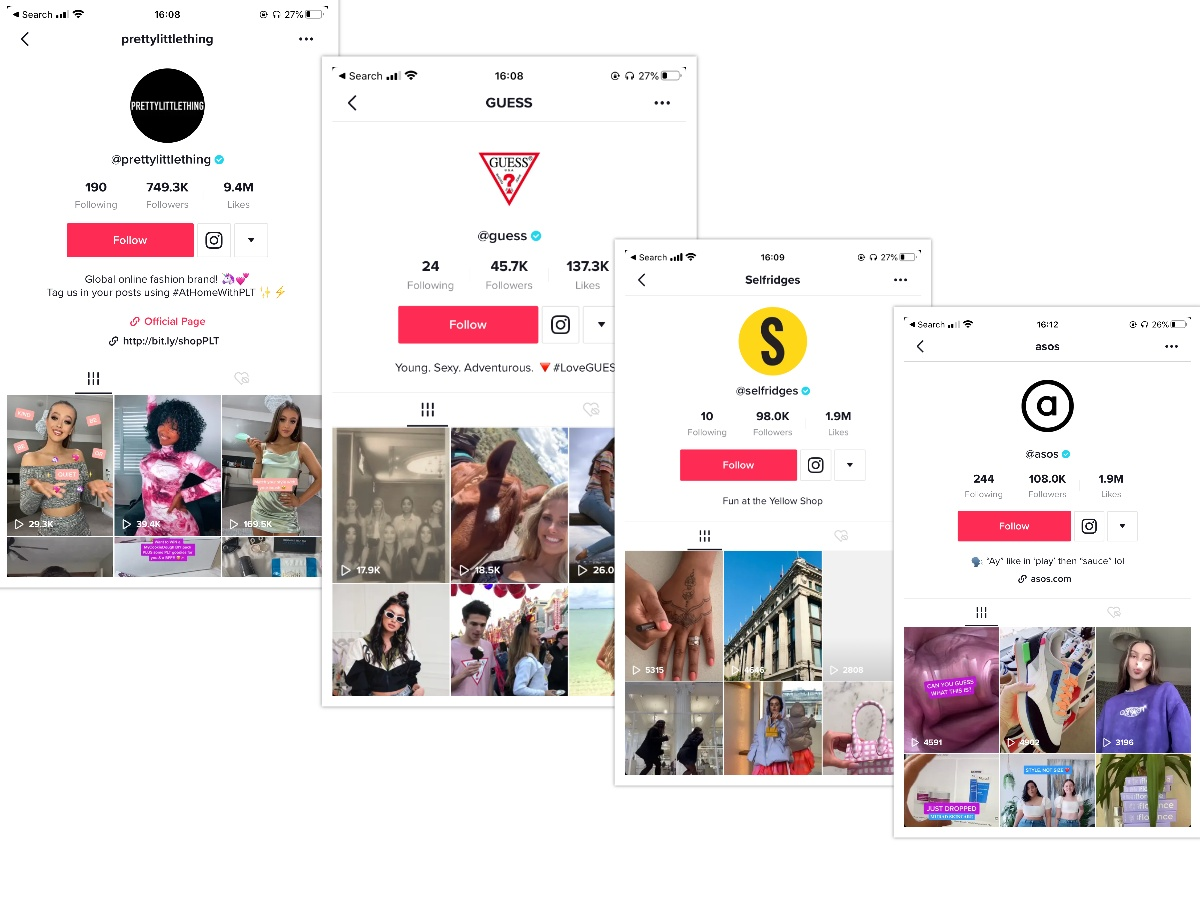 Make sure your TikTok profile looks approachable and attractive. This way you can easily attract new followers who enter your profile page.
Don't just copy other users while making creating your: it needs to reflect your brand's values and feel feel approachable.
As a marketer, you can use your brand logo as a profile picture and your business name as a username. You can also add some engaging call-to-action buttons on your profile, which directly invite people to your website or other social networks.
8. Invest In TikTok Ads 👀
If you're looking for a fast way to increase your followers, you can use TikTok advertising options to get maximum reach.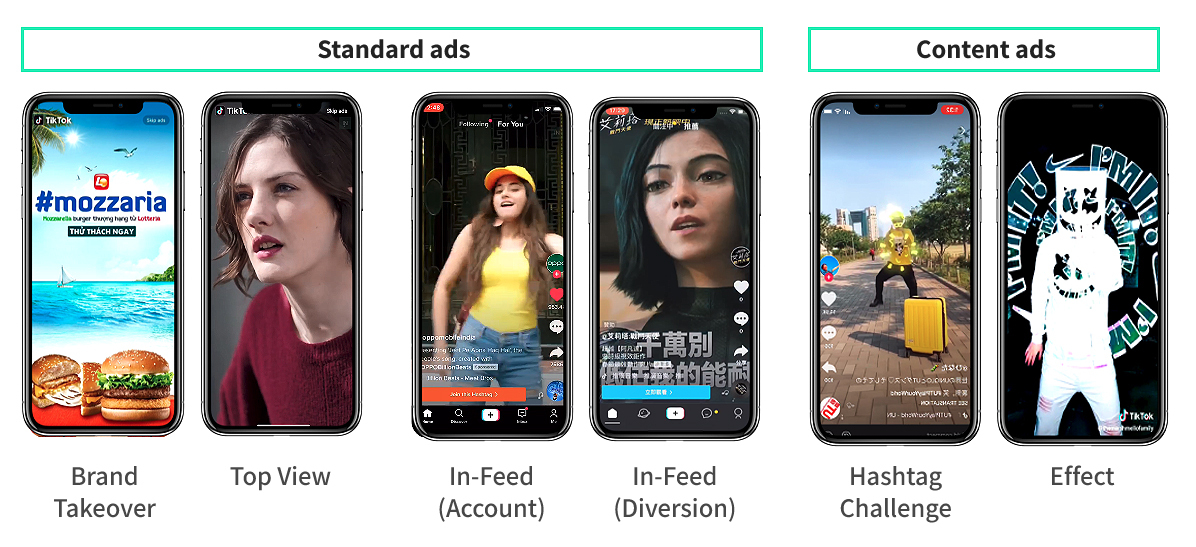 With TikTok ads, you can boost brand awareness, increase engagement rate and generate more sales.
TikTok provides various advertising options, here are few types you can choose from:
In Feed Ads - These ads are similar to the Instagram ads, and they appear on TikTok's home page (For You page). Infeed ads are 9 to 15 seconds long, and you can add a call to action to increase your conversations.

Brand Takeover Ads - Brand takeover ads are full-screen video, and it displays immediately when a user opens the app. These ads also appear on the For You page in the format of images, videos, or GIFs.

TopView Ads - It is similar to the TikTok brand takeover ads, but the only difference is top view ads appear after 5 seconds the user enters the app. It is a full-screen video ad with sound and autoplay options.

Branded Effects - With branded effects ad format, you can customize your ads by using AR filters, lenses, and stickers. These effects will help you add a unique appearance to your ad and drastically draw your audience's attention.
9. Add Popular Music To Your Videos 👩🏽‍🎤
Who doesn't love music?
You can use trending songs for your videos to engage your visitors.
TikTok offers new trending songs for users every week.
10. Post Your Content On Other Social Networks 💻
Cross-promoting your TikTok content on other social platforms is the best strategy to drive traffic to your TikTok account.
After posting videos on TikTok, you can easily download your videos on the camera roll, tap on the share button, and click save.
Your published video will save on your mobile gallery. So, you can easily share your TikTok content on other social networks through mobile devices.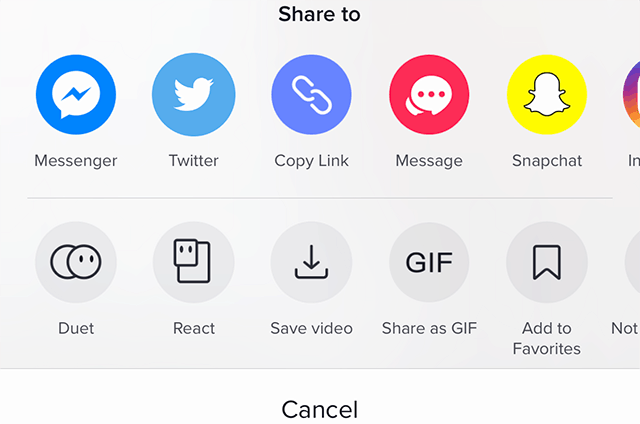 Pro Tip👇🏽
TikTok videos are quite short, this means you can upload them as stories to Instagram and/or Facebook. You can also compile all your best videos and share them on YouTube in a long-format video.
11. Upload Hashtag Challenges 👈🏽
TikTok is a great platform to create a challenge for your followers.
Hashtags challenges are the latest social media trends, especially on TikTok.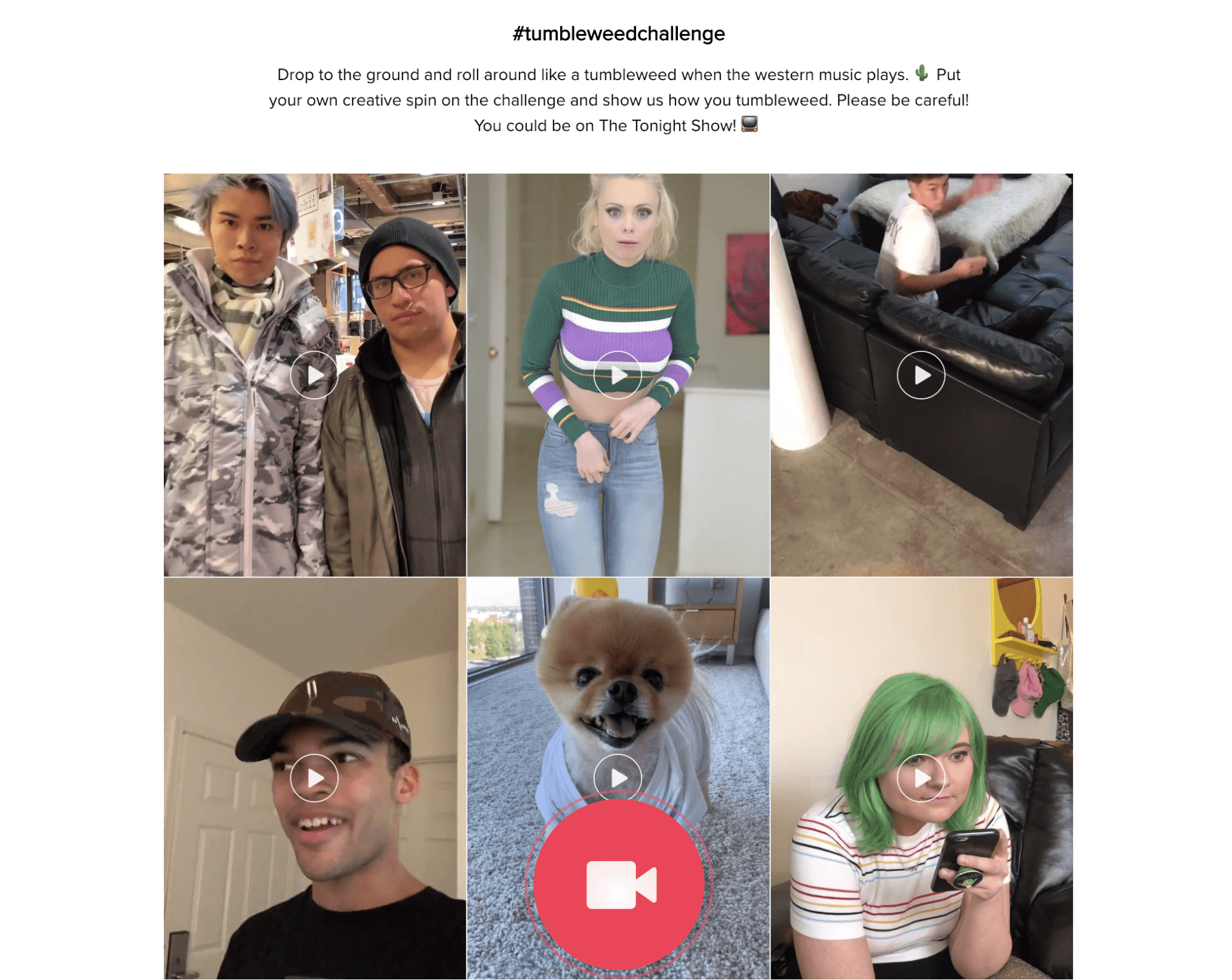 TikTok's viral challenges are Kiki challenges that encourage people to sing or dance to a specific song.
When you add trending hashtags in the TikTok posts, your videos will potentially be visible to millions. It can help increase your number of TikTok followers within a short span.
12. Use Best Video Editing Apps 🎥
There are lots of video editing apps available on the market to create captivating TikTok music videos.
You don't need to be a professional editor to edit your TikTok videos, but working with various apps help to polish up your content.
If you want to have your videos look professional, you can use apps like Video Star, Triller, or MuStar.
13. Track Your Account Success 📈
Measuring your content and profile performance is the most effective strategy if you want to create better videos in the future.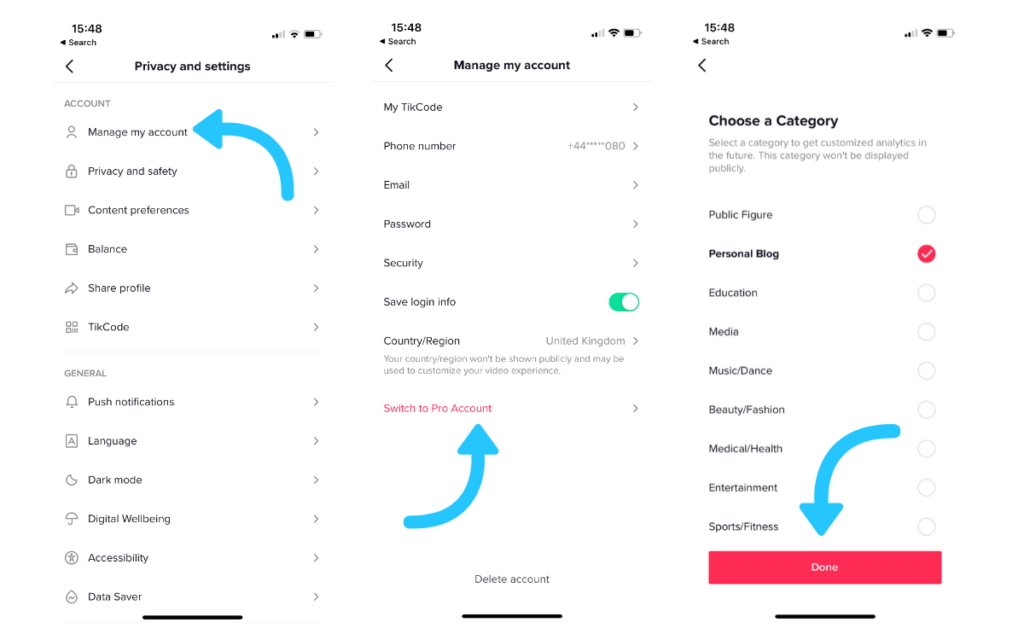 TikTok analytics is a free built-in tool that helps you measure the overall and individual performance of your videos, audience demographic, and profile growth. You'll need a TikTok pro account to measure all these metrics and KPI's.
Are you wondering how to find TikTok analytics? 💁🏻‍♀️
Go to the TikTok profile on mobile.
Click the three dots at the top right corner
At the end of your account setting list, you can see the analytics tab.
Tap the analytics option to find all metrics and stats of your TikTok account.
TikTok shows three main categories on its analytics dashboard, they are:
Profile overview - With this section, you can analyze your video views, profile views, and followers count.
Content insights - The content section will give you deep insights into total video posts, trending videos, and individual post analytics.
Followers insights - you can find metrics in the follower's tab such as total followers, gender, top territories, followers activities, and much more.
Wrapping Up👏🏼
TikTok offers endless opportunities for users to post content and gain lots of engagement.
Creativity is one of the critical factors to get the chance of your videos going viral on the For You page and ultimately get more followers to your profile page.
You can use these amazing ways as your strategies, and you can quickly increase your followers count on TikTok!
---
This article was written by Alison Williams. Alison is a social media content writer who works at Flatfitty, she is an experienced social media analyst, and her passion is to contribute to engaging content for authority blogs and websites.You can also visit her online at Twitter.com!